Profile enhancement
With the help of the profile enhancing function in mailingpoint, you can enhance the subscriber data with important information which you received in the course of your email marketing. As an example, you can expand all subscriber data with an additional field for voucher actions or use survey results to enhance the amount of subscribers. The profile enhancing function consists of four steps, which have to be adapted at a time since the settings cannot be separately saved.
The first step will be to choose those subscribers in the lists and target groups whose profile you want to enhance with important information.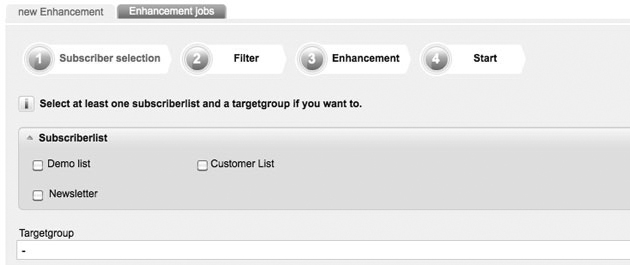 In the second step, you may now set up another filter. Available options here are:

Profile Data: Filters the subscribers based on their profile.
Receipt of Mailing: Here, subscribers are filtered based on whether having received or not received a standard or dialogue mail. A subscriber has received the mailing when his email server accepted the mail. In this case it may also occur that the mailing has landed in the spam folder.
Opening of a Mailing: This option filters subscribers based on whether having opened or not opened a standard or dialogue mail.
Bounces in a Mailing: Filters subscribers based on bounces.
Clicks in a Mailing: Filters subscribers based on their clicking behavior.


You can set up a couple of filters which are all 'AND'- connected and therefore, only those subscribers are enhanced whose data applies to all filters. By clicking on the trash can icon at the end of each line, you may delete single filters.
If you want to enhance all subscribers of the previously chosen list with the same feature, you do not have to enter a filter.
The third step 'Enhancement' will be to set up the desired change of the subscriber data. Here, you have three options available:

Modification on Profile Data: With this option, you can modify existing subscriber fields.
Modifications on Subscriber List Assignments: You can enter/remove subscribers to/from additional lists.
Increase or Decrease Counter: You may increase or decrease the value of a field whose type is Integer
As before, you can modify more than one feature and delete the modification by clicking on the trash can icon.
In the fourth and final step, mailingpoint gives you a summary of the planned profile enhancement. Therefore, you can check if you have modified all settings correctly.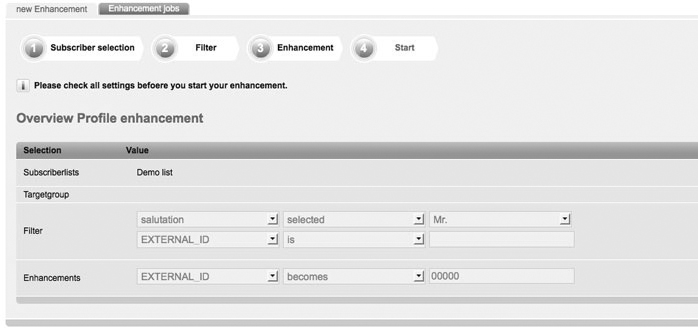 By clicking the button 'Start', the profile enhancement is triggered immediately. You automatically get to the tab 'Enhancement Jobs'.



In this tab, all current and finished profile enhancement jobs are listed. If an enhancement is about to take longer, the bar of progression will keep you updated. After having finished the job, the links 'Details' and 'Delete' are available. The Link 'Details' connects you to an outline of how many subscribers have been enhanced.