Subscriber fields
In this survey you can find the predefined subscriber fields. All essential subscriber fields for your email marketing - such as email and name for example - have been defined in advance.
 By clicking on 'Create new field' you can create additional subscriber fields. You may 'Edit' – with the particular icons – already existing fields and change their name, description and type if necessary. In order to remove the selected subscriber field, you have to click on the 'Delete' icon. However, this has to be certified in a second step. Note that information in the removed field is deleted in the data of all subscribers.
When creating new fields, different input fields are available. Give the subscriber field a title. 'Alias' is the field name automatically applied to the field by the system. However, this name can always be changed. With the help of the Alias you can define a short wildcard for this element. The type of the new field can be chosen from altogether 13 predefined field types.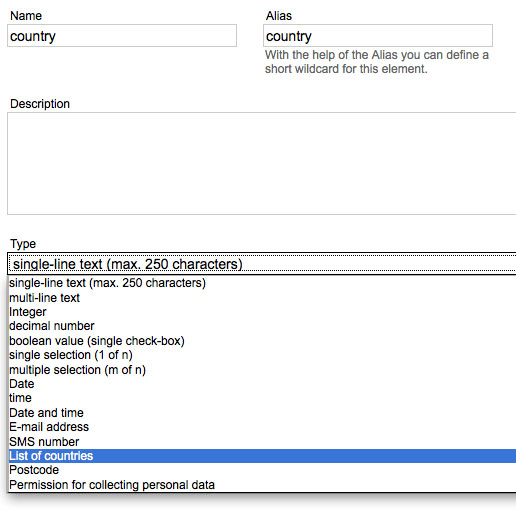 Some of these types will be discussed in the following:
- Single-line text (max. 250 characters): In this field you may safe short texts; interests of the subscriber, names or company labels as some examples
- Multi-line text: This type is useful for comments or longer entries which do not fit in a single line. A text field is available for the input
- Integer: You may choose this type for all numbers that can be written without a fractional or decimal component. As an example, this field may be used as a field for voucher or telephone numbers.
- Decimal number: In this field, you may enter digital numbers, for example price information.
- Boolean value (single check-box): This type matches the classical, quadrangular check-box.
- Single selection (1 of n): A classical field for selection in which one of any number of possibilities can be chosen.
- Multiple selections (m of n): Any number of products can be chosen by un-/marking single check-boxes. Enter the options separated by comma and without spaces.
- Date and Time: You can enter information of the form yyyy-mm-dd hh:mm:ss (year-month-day hour:minute:second).
- Email address: This type may exist only once in the list of subscriber fields because you can assign only one email address to each subscriber.
- List of countries: All countries are available via a dropdown menu.
- SMS number: Since you can only assign one SMS number to each subscriber, this type may also exist only once in the list of subscriber fields.
When clicking on 'Arrange Fields' you can move subscriber fields via drag and drop to different positions and – if necessary – organize them in up to 4 groups. In this way, the subscriber data will be clearly organized and easier to manage.